Malaysia Deputy Minister of Communications and Multimedia, Zahidi Zainul, on Monday, March 21, took a step forward to recognize Bitcoin and other crypto-assets as legal tender following El Salvador. He mentioned that these innovative actions would support the youth and make them contribute and participate in this industry since the blockchain industry significantly increased among the younger generation within the Country. (1)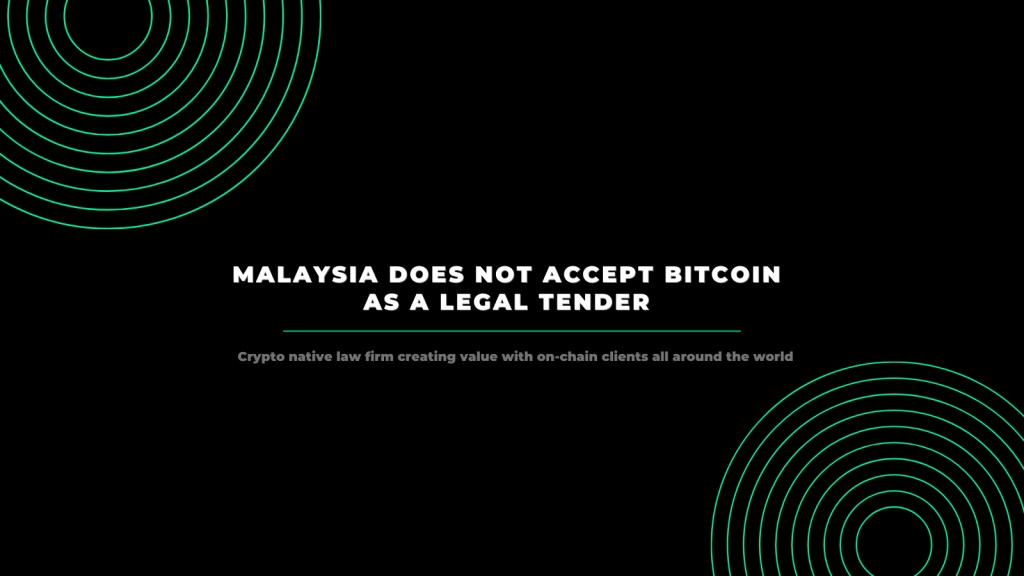 According to the Chainalysis' 2022 Global Crypto Adoption Index, Malaysia ranks 23rd. The majority of the country, especially the youth, are familiar with crypto-related activities and ready to enjoy the opportunity to use cryptocurrencies as legal tender. (2)
Zahidi pointed out that the final decision is up to the financial regulators and hoped that the Government would try to legalize cryptocurrency-related activities. (3)
Government's Approach
After a very short hopeful waiting, a reversed response came from the Government. Deputy Finance Minister Mohd Shahar Abdullah clarified the rumors in Parliament by stating, "Cryptocurrencies like bitcoin are not suitable for use as a payment instrument due to various limitations." He gave examples of different cryptocurrency obstacles, such as cyber security concerns and fluctuation in prices. (4)
Malaysian Finance Minister Tengku Datuk Seri Zafrul Tengku Abdul Aziz mentioned that the payments made in cryptocurrencies are not considered legal tender. He further stated that cryptocurrencies lack the characteristics of universal money because, "In general, digital assets are not a good store of value and medium of exchange. This is because digital assets are vulnerable to volatile price fluctuations due to speculative investments, the risk of theft due to cyber threats, and lack of scalability". (5)
Zafrul further underlines that the Central Bank is working on a central bank digital currency and other blockchain-related developments to join and encourage the industry. (6)
What's Next?
It is seen that the Malaysian Government has no intention to legalize the cryptocurrency to be used as a payment instrument. Although we do not know what the future might bring to us with crypto-related activities, the Government seems to be working on digitizing its payment instruments and assets right now.
It is known that the Government has a project that has been worked on recently for Central Bank Digital Currency ("CBDC"). (7) Bank Negara Malaysia's ("BNM") approach is to support the Country's economic developments in line with the Financial Sector Blueprint 2022-2026.
The governor of BNM, Tan Sri Shamsiah, commented that the central bank intends to create digital options in finance for the citizens by stating, "Let me be clear: this is not about forcing customers to go digital. Rather, it is about offering people choices. Physical and hybrid options will still be available. The point is that consumers and businesses who are ready for the technology should be able to benefit from it." (8)
BNM has joined an international project to develop two prototypes for a platform that would enable international settlements with multiple central digital bank currencies (multi-CBDCs). BNM mentioned that the project's ("Project Dunbar") aim is to show that financial institutions can use multi-CBDCs in a common platform. (9) Project Dunbar includes the Reserve Bank of Australia, the Monetary Authority of Singapore, the South African Reserve Bank, and the Bank for International Settlements Innovation Hub. The Central Bank joined the trial in September 2021 to test the CBDC transactions. (10) The findings contain information on the progress of the project.
As Vircon Legal, we'll keep you updated regarding the crypto-related news in Malaysia and other developments about blockchain.
---