Your passion will lead you where you are supposed to be.
You can raise your voice in Crypto by investing more time and energy into yourself.
Enjoy the waves.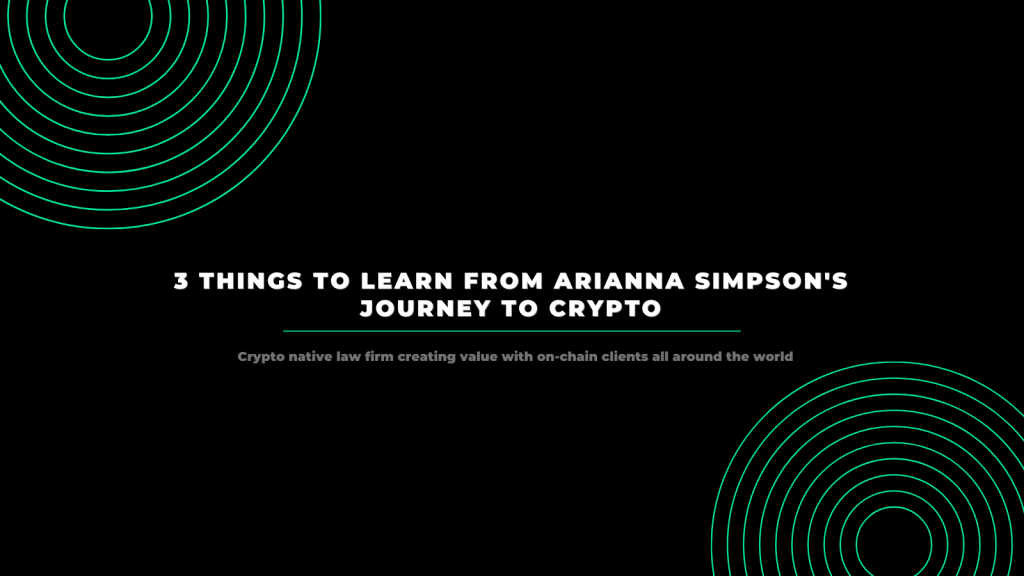 Please allow us to share a bit of Arianna Simpsons' background before moving onto her Crypto journey.
Arianna was born in Milan. Arianna spent most of her childhood speaking two languages, so she does not have any strong Italian accent at all. Currently, she speaks like a native English speaker. Arianna's mother is Italian and her father is American.
Arianna has studied Political Science & Spanish at Pennsylvania University. While studying, she went to South Africa for an ecology project for semester break.
The project required identifying & reporting giant varieties of plants. Once in a while, she had trouble figuring out what kind of tree she was looking for. One day, an idea popped into her mind: What if there was an app that could identify each plant by taking a picture?
- like "Shazam for trees."
Her brilliant idea led her to return to the US after the summer semester and talk with engineers' friends about creating this app. Arianna's tech journey started here; the app introduced her to the startup ecosystem.
In the end, her startup didn't pan out. She decided that the best way to gather more experience was by joining different start-ups.
Her next step was Shoptiques to Head of Boutique Operations Department. After spending time in the Operations Department, she wanted to be part of something big.
In 2013, Arianna began her career with Facebook's Global Marketing Solutions team.
Day by day, entrepreneurship is getting valued, and it provides you with many more opportunities to build your own startup company. Arianna believes that relationships and trends are essential things in business life. She had aspirations of spending her life investing in technology.
Your passion will lead you where you are supposed to be.
Once she left Shoptiques, she was eager to travel the world. Arianna made contact with her friend who works for a non-profit in Namibia.
As they went to the Zimbabwe side of Victoria Falls, she realized people were using US Dollars. Arianna questioned people about using US Dollars and dug into the purpose. The use of the US Dollar led to high inflation.
In 2013, an experience in Zimbabwe changed Arianna Simpson's life.
She knew what she wanted to make as soon as she returned to the US. When she went to Princeton, her friend introduced her to Bitcoin. She'd never heard of it before. Then, she researched what Bitcoin is and how it works.
When she began reading the Bitcoin White Paper in 2013, she thought Bitcoin might address the problems involved in the traditional banking system. The Crypto world is a tight-knit community. Everybody knows each other in there, so you can easily make connections. If you do well in your part, you can be part of it.
One of her blog posts was about BitGo. BitGo released the industry's first multi-sig wallet in 2013, and "their unique approach to key generation, key management, and corporate treasury policies ensure that funds are protected from theft and loss while remaining easily accessible for day-to-day commercial use."
Arianna never stopped creating content on her blog. One day Arianna started a post about BitGo on her blog, and something lighted up in her mind again. She thought, "what would be that if I emailed the CEO of Bitgo, so I let them know what I'm doing?" Here we go! She emailed BitGo's CEO about her post. She added, "I mentioned you on my blog; you may want to put it on your website?"
So, did it work out?
With this email, she met with the CEO of BitGo. Joining BitGo was not in the plan; she just wanted to make a statement and publish her post on BitGo's website.
The road will lead you there if you have an entrepreneur mentality.
If you invest more in yourself, your voice will get higher in Blockchain
Arianna serves as an active angel investor and venture partner at Crystal Towers Capital, an early-stage VC fund she co-founded in 2015.
She founded and manages Autonomous Partners, a company focused on cryptocurrencies and digital assets.
There was a coincidence between Autonomous Partners and Andreessen Horowitz. The coincidence was that they often met in the same investments. Autonomous Partners invested in the same investments as Andressen Horowitz. Andressen Horowitz and Autonomous Partners often invested alongside one another. Andressen Horowitz hired Arianna as a deal partner. Eventually, Horowitz and Arianna had a chance to meet each other.
We want to dive into another side of Crypto. Arianna had the courage to participate early in the crypto industry, which was mainly populated by men. Her philosophy is " if you can do it, so can I ". Women empowerment is one of the most fascinating aspects of crypto. There are so many opportunities! Everything is so early and everyone is a beginner in this space.
There is a social-economic revolution going on. What is left of Web2 is not moving to Web3. The blockchain project is built for the next generation of businesses and consumers. Consumer behaviors will be redesigned. The gender gap status quo will be redesigned. People will develop new ways of thinking about values, social and financial.
Enjoy the waves
After her outstanding work in the fund, Arianna was promoted to a GP position. She became responsible for the firm's new cryptocurrency fund of $2.2 billion. "Part of this fund has stakes in NFT companies like OpenSea and Dapper Labs and has had a further focus on decentralized finance, infrastructure, and gaming in the cryptocurrency industry."
As Arianna became more experienced in space, she identified gaming as a critical market for the future of cryptocurrency. (https://seekingalpha.com/news/3716480-andreessen-horowitzs-arianna-simpson-crypto-is-multi-decade-endeavor-sees-gaming-as-the-next-big-market)
Her crypto journey is inspirational. When Arrianna visited South Africa for the first time, she decided to create an app. After her second visit to Africa, she noticed a problem with hyperinflation and tried to change something upon her return. She was very curious throughout her career; she's followed that curiosity with a passion.
Pursing your passions creates amazing stories in Crypto. Arianna is a great role model in this regard.
---